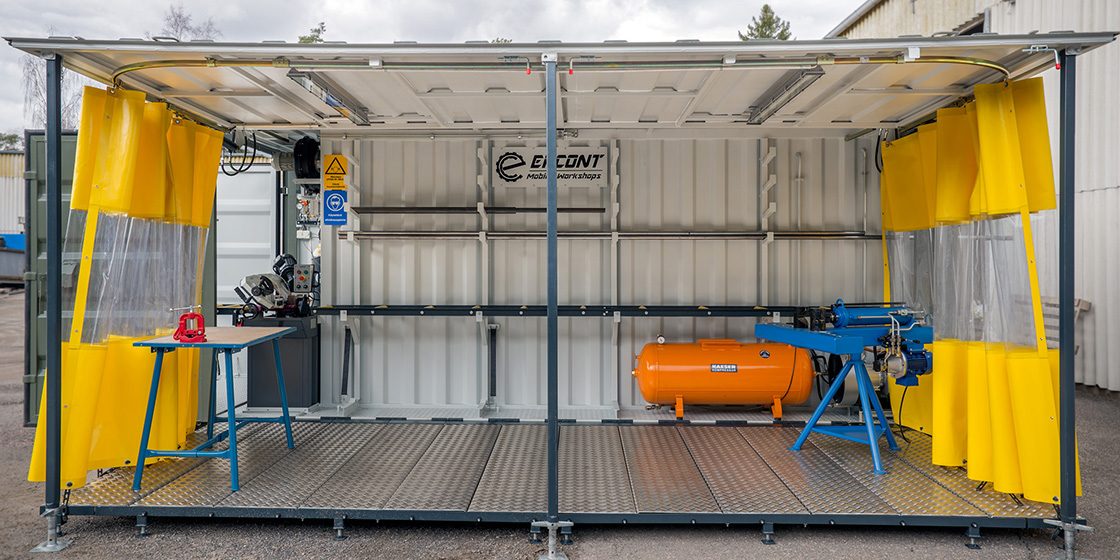 RENT AND SALES OF Mobile Workshops
The idea of a Mobile Workshop was born out of our extensive experience on shipping and
The idea of a mobile workshop was born out of our extensive experience on shipping and construction worksites, among other things. This experience led to observations on dysfunctional practices in specific situations – issues that were very similar, no matter what field they were from: marked by the kind of inefficiency that leads to financial losses.
The Ercont Mobile Workshop can provide the efficiency you need and reduce unproductive working time. Project-based work as well as large worksites often ignore the quality requirements of the workers' work spaces. This can lead to wasted resources, such as wasted time in moving between a worksite and workshop that are too far away from each other. Poor working conditions contribute to the risk of accidents and lead to significant costs, whether they are apparent or invisible. Our core philosophy at Ercont is to reduce these unnecessary and unrefined actions and costs. Our brand promise – Workshop in Fifteen Minutes – means that setting up for efficient performance and a high-quality result is easy.
Mobile Workshop:
- has the dimensions of a sea container (6.06 m x 2.44 m) steel body with hydraulic-opening side
- enables more than 26 m² of covered work space, including 8 m² insulated and heated space
- assembly and disassembly takes time only few minutes
- a workshop can be transferred by a truck, forklift or crane
- functions and machines are ready to use immediately after one 32A plug has connected
- supplies can be customized according to the customer's needs
Supplies:
- metal band saw (max. Ø 170 mm pipe)
- welding machines (MIG/MAG, TIG, electrode and gas)
- gas central with pressure reducers and flow controllers (argon, formier, oxygen, acetylene, gas mixture)
- air compressor and air pipes with water separator, line lubricator and quick couplers
- pipe shelf
- pneumatic tools
- hose reels (oxygen / acetylene, compressed air)
- working tables with adjustable pipe vises
- exhaust fan and adjustable fume extraction arms
- electric heater
- industrial cabinet and drawer units
- perforated wall plate with fasteners
- additional aluminum side floor 10 m²
- protective curtains
- pillar drilling machine
- grinder
- hydraulic pipe bender
- fire-extinguishing equipment (2 x 12 kg ABC fire extinguisher and fire blanket)
- first-aid station

ERCONT Oy
Business ID: 2706954-2
Vanhasentie 3
21200 Raisio
+358 50 329 6631
ercont@ercont.fi